Main content starts here, tab to start navigating
Menus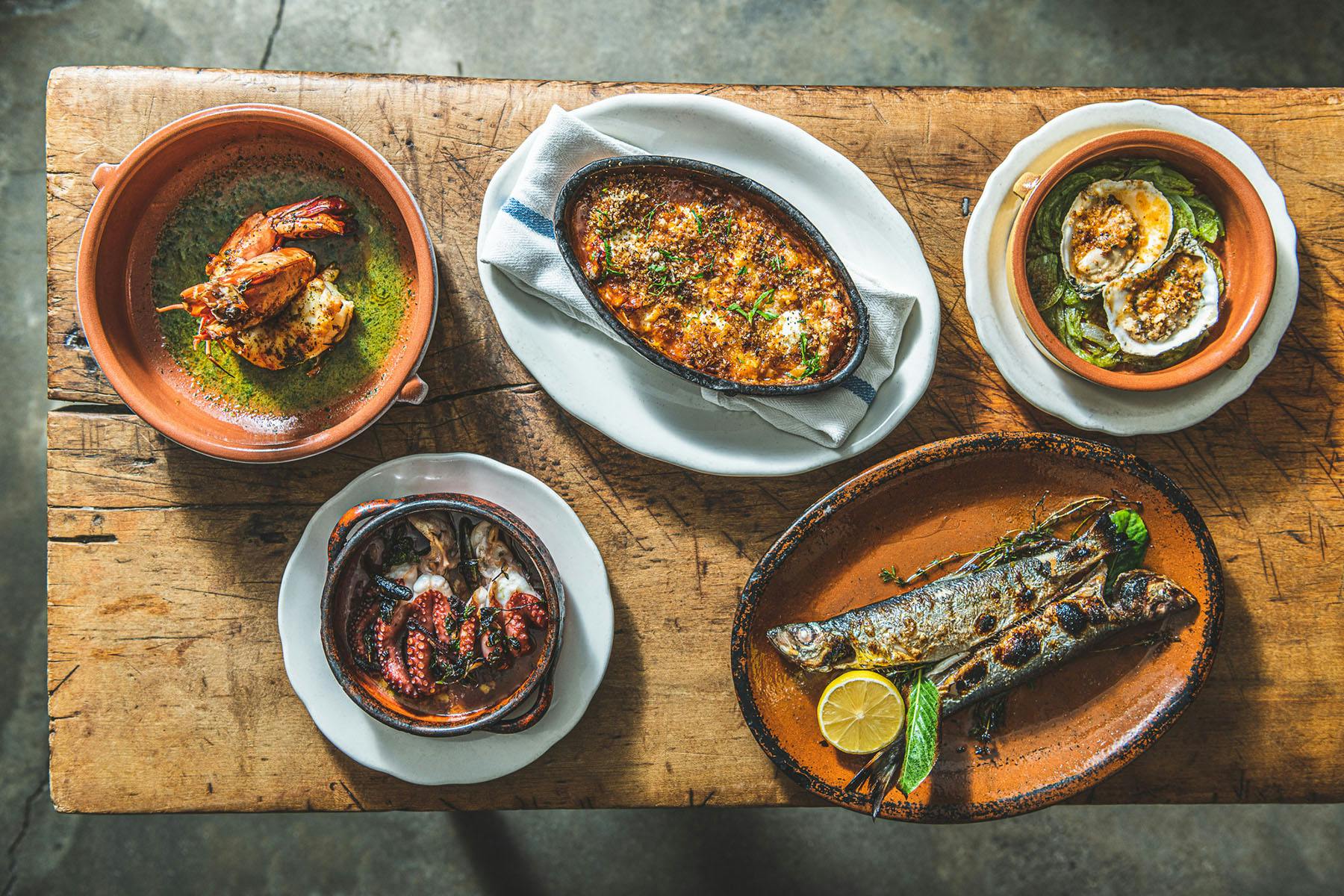 To Start, For the Table
LA ZUCCA

Honey Nut Squash, Pepitas, Pickled Calabrian Chile
Antipasti
Choice of:
BURRATA

Wild Mushroom, Truffle-Balsamic Reduction

BLUE HUBBARD RIBOLLITA

Peasant Bread, Pecorino Romano

RIGATONI MEZZI ALLA VODKA

Lobster and Shrimp Diavolo
Secondi
Choice of:
HERITAGE TURKEY

Chestnut Rotisserie Gravy

WAGYU BEEF BRISKET

Chianti Reduction

WOOD ROASTED SEA TROUT

Meyer Lemon Salmoriglio
Contorni
For the Table
Stone Ground Polenta Stuffing

Brussels Sprouts, Guanciale, Pierre Poivre Honey

Wood Roasted Sweet Potato, Mascarpone

Cranberry Sauce
Dolce
Choice of:
WOODFIRED APPLE CRISP

Lemon Mascarpone Gelato, Caramel Sauce

PUMPKIN PECAN PIE CHEESECAKE

Cranberry Whipped Cream
Cocktail della Casa
WOOD-SMOKED NEGRONI

Gin, Campari, Cinnamon & All-Spice infused Sweet Vermouth

$16

AUTUNNO SPRITZ

Pear Vodka, Cinnamon Simple Syrup, Sparkling Wine

$16

MEZCAL OLD FASHIONED

Del Maguey Vida Mezcal, Dark Rum, Drambuie, Demerara Syrup

$16

HOT TODDY

Bourbon, Maple Syrup, Lemon Juice

$16

BROOKLYN TUXEDO #2

Brooklyn Gin, Dry Vermouth, Luxardo Maraschino, Orange Bitters

$18

ITALIAN MANHATTAN

Basil Hayden's, Amaro Nonino, Dry Vermouth, Bitters

$18
Vino Bianco
NV SORELLE BRONCA PROSECCO, VENETO

Spumante

$14

2018 LAGEDER PINOT GRIGIO TRENTINO-ALTO ADIGE

$12

2018 DORIGO RIBOLLA GIALLA FRIULI

$12

2018 VIETTI ROERO ARNEIS PIEDMONTE

$16

2016 HOFSTÄTTER PINOT BIANCO ALTO-ADIGE

$14

2017 TENUTA RAPITALA GRILLO SICILIA

$12
Vino Rosso
2016 NINO NEGRI VALTELLINA SUPERIORE "QUADRIO" VALTELLINA

$12

2018 G.D. VAJRA NEBBIOLO LANGHE PIEDMONTE

$18

2018 CASTELLARE CHIANTI CLASSICO TUSCANY

$18

2017 POGGIO LA NOCE TOSCANA ROSSO "GIGETTO" TUSCANY

$16

2015 REDIMORE MASTROBERARDINO AGLIANICO CAMPANIA

$12
Pizza
Our sourdough pizza is an ode to the ancient way of pizza making. It is made up of 100% wild yeast, Italian wheat, rice and soy flours. It is fermented for 72 hours and cooked in our wood burning oven. Just as they would have done it, hundreds of years ago.
MARGHERITA

$11

PROSCIUTTO

Arugula, Truffle Oil

$12

the BEE SPROUT

Mascarpone, Brussels Sprouts, Guanciale, Calabrian Honey

$11

LA ZUCCA

Squash, Honey Nut, Delicata, Pepitas, Pickle Fresno

$11

MAIALINO di LATTE

Suckling Pig, Potato, Garlic Confit

$12
Antipasti
DIPALO BURRATA

Cherry Tomato, Basil, Balsamic Reduction

$19

INSALATA di FARRO

Local Squash, Castelrosso, Walnuts, Pomegranate

$21

INSALATE di CESARE

Garlic Bread, Parmigiano di Reggiano

$19

PIEDMONTESE STEAK TARTARE

Pizza Dough Pillow

$21

ANTIPASTI

Marcelli Formaggio, DiPalo Charcuterie, Olives, Sourdough Crouton

$25

POLPI in PURGATORIO

Baby Octopus, Hot Chili

$21
Pasta
Gluten Free Available
RIGATONI alla VODKA

Tito's, Basil Breadcrumbs

$22

BUCATINI CARBONARA

Smoked Egg Yolk, Guanciale

$22

ORECCHIETTE BOLOGNESE

Estratto di Pomodoro

$22
Secondi
POLLO di SNOWDANCE

Half a Chicken, Wood Fired Romesco, Spigarello

$31

PESCE SPADA

Swordfish, Kale, Tongue of Fire, Salsa Verde

$31

BISTECCA di FERRO PIATTO

Flat Iron, Wagyu Potato, Radicchio, Bone Marrow Gremolata

$42

PESCATO FRESCO

Daily Catch, Gnocchi alla Romana, Smoked Tomato Livornese

MP
Dessert Cocktail
BOURBON MOCHA

Four Roses Small Batch, Cold Brew Coffee, Honey Syrup, Triple Sec, Cream

$16

ANA BANANA

Jameson, Crème de Banana, Dry Vermouth

$14
Dolce
NUTELLA BUDINO

Chocolate Crumbles, Mascarpone Whipped Cream, Cocoa Nibs

$12

HONEY ROASTED GRAPE CAKE

Oven Roasted Grapes, Semolina Ricotta Cake & Honey Gelato

$12

WOODFIRED APPLE CRISP

Lemon Mascarpone Gelato

$12

AFFOGATO

Fior di Latte Gelato, Esse Italian Espresso Add a Shot of Faretti Biscotti Liqueur, Sambuca, Anisette or Baileys for $5

$10